Diesel School – Train To Be a Diesel Mechanic
Specializing in diesel mechanics and diesel technology can be a very rewarding career for many. Experienced diesel technicians are in high demand. With proper training and certification programs any one of these automotive-diesel schools, you too can accelerate your career and become a certified diesel technician.
Take charge of your career by going after the skills you'll need to specialize in diesel engines, machinery, diesel trucks, industrial equipment, and more. Below find information on diesel schools as well as their tailored diesel training programs.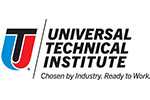 At UTI, you won't just train for a career. You'll train for success. The hands-on training and high-tech skills you'll get at UTI will put you on the fast track to a rewarding career as a professional technician.* Across the nation, you'll find UTI-trained technicians working in great jobs with top manufacturers, dealerships and repair shops. That's because employers know when they hire UTI graduates that they're getting skilled technicians with experience on the latest vehicles and technologies. And with UTI's accelerated training programs, you'll be ready to graduate and start your career as a professional technician in about one year.** ...[MORE]

Programs: