New York ADI
Welcome to New York Automotive & Diesel Institute. We're known exclusively for training students to become Master Automotive, Diesel & Collision Technicians - knowledgeable in all aspects of repair and service of cars, trucks and diesel engines. All of our programs are structured around the ASE standards. ASE stands for Automotive Service Excellence and is nationally recognized for certifying both automotive and truck & diesel technicians.
Our programs are designed to help you develop the skills needed to become an entry-level technician in as little as 8 months. Our Career Services Department will help you match those skills with potential employers. Remember, you can take your certificate wherever you go!
Our school is licensed by the New York State Education Department. Our school is accredited by the Accrediting Commission of Career Schools and Colleges ACCSC. Our placement department will assist you every step of the way from writing a resume to arranging a job interview with a top company. Full-time classes start every three weeks and part-time classes start every five weeks.
Financial aid and Veterans Benefits are available to those who qualify. To find out if you qualify, contact our financial aid department. Graduates will receive our exclusive Snap-on Tool set.
Applicants must demonstrate the ability to read, write and understand English, as all New York ADI classes are taught only in English. During the past few months, we have worked closely with NATEF to make certain that our program would meet strict industry standards, and now we are delighted to join the ranks of the ASE accredited training programs. Students will be assured of a quality education, and shop owners will be assured of getting quality job applicants.
For more information about our graduation rates, the median debt of students who completed the program, and other important information, please visit our website at, http://www.nyadi.com/program-disclosures/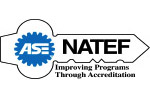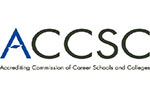 PROGRAMS
AUTOMOTIVE SUPPORT TECHNOLOGY
This program seeks to train young men and women in the automotive field to work in positions other than an automotive technician. The student will be qualified to become an entry-level service advisor or parts counterperson.
The Automotive Support Technology program features a strong core of product knowledge in the various components and systems of the automobile with the student attending the theory end of the school's automotive courses. This will allow the student to be able to be fully knowledgeable when conversing with customers about problems they are experiencing with their vehicle or parts that are needed for the vehicle. The program also features courses in Shop Operations, Customer Relations, Internal Relations, Sales Skills, Inventory Management and Technical Manuals & Software.
MASTER AUTOMOTIVE & DIESEL TECHNICIAN
Do you like to have the best of both worlds? This is the program that has it all! Become one of the few techs who can service both cars and trucks. This program was developed by using the core courses from our Automotive Program and our Medium / Heavy Truck Program. These are the skills employers demand. 20 Courses / Full Time 15 Months / Part Time 24 Months
CERTIFIED AUTOMOTIVE TECHNICIAN
Got the Bug? The Car Bug? Well, we've got the cure. Our Master Certified Automotive Program is the perfect tonic that can satisfy anyone bitten by the car bug. Students will learn by using the same training equipment used by G.M., Ford, Chrysler and Toyota. 10 Courses / Full Time 8 Months / Part Time 12 Months
MASTER CERTIFIED AUTOMOTIVE TECHNICIAN
16 Courses / Full Time 12 Months / Part Time 18 Months
CERTIFIED TRUCK & DIESEL TECHNICIAN
Do your dream big? Really big? Well this is where the Big Boys are! Tractors. Trailers. Heavy Duty Equipment. Learn it all here in our Master Certified Medium / Heavy Truck Program. Learn by using equipment from Caterpillar, Mack, Cummins, and Detroit. 10 Courses / Full Time 8 Months / Part Time 18 Months
MASTER TRUCK & DIESEL TECHNICIAN
116 Courses / Full Time 12 Months / Part Time 18 Months
MASTER CERTIFIED COLLISION REPAIR TECHNICIAN
In a world of wrecks and dents, ONLY the experts can put the pieces back together. Join the very best in the business, with a great career in "Auto Body Repair!" New York A-D-I has the training you'll need to master the tools and techniques that can restore and revitalize even the most challenging bodywork! Plus upon graduation, you'll receive our exclusive Snap-On tool set. 16 Courses / Full Time 12 Months / Part Time 18 Months